Leaves of Change - Bead It! Challenge
Not quite a tutorial yet, but here are some of the scans of the progression of this object.
Challenge: Created something using beads challenged by the theme "Leaves of Change"
Background info: The theme idea came from the theme for an upcoming Guiding event (Girl Guides). I thought it would allow many different interpretations.
Outcome: This is a gypsy purse. It is sometimes known as a Tulip Purse because of it's shape and the way it resembles a tulip when it is opened. I don't know the origin of the pattern or name, however from what I gather it is a variation of a miser purse. These small purses were ingenious little items that had some sort of security built into their design. This little purse has a leather tong that is threaded in and out of each petal of the purse (there are 4) and when the tong is pulled the contents of the little purse cannot come out. The tong can be fastened to a belt. It is constructed of deer hide ( I LOVE leather!) and is edged in ivory colour seed beads.
Gyspy Purse
Gypsy Purse Open Front
Gypsy Purse Open Inside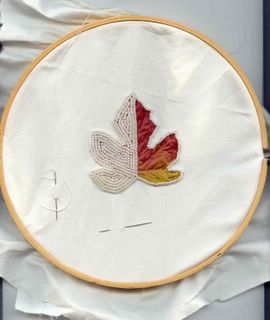 Beading Leaf
Leaf Detail
You can see how little it is here. I thought it was rather clever to make a "change purse" with a leaves on it. "Leaves of change?" ha ha.... I must have been in a sarcastic mood the day I finally decided on how to interpret this challenge.
Embellished Gyspy Purse
Here is the finished purse. Click on it to view it in a larger form. It is rather simple but I think it has a little charm.
Finished Leaves of Change Challenge

Now onto the next challenge. August's theme is
"Free Spirit".
If anyone wishes to interpret this theme, let me know. The guidelines are
here
.