Inspiration Wednesday
Here are a few things I founf while surfing today that caught my eye. Damn! I am going to have to find the time to make one of those amigurumi dolls. They are so intriguing!
Here a couple of monkey friends I had to include in honour of LoobyLu's Month of Softies. Theses guys are found on
this japanese site
.
Amigurumi Monkeys
While looking up "handmade" on Japanese sites I found
this blog
which included what I think are zippered pouches. I love their simplicity and serenity.
Zipper Pouches
And again, on the same search I found these
sweet embroidered wrist bands
. I really like these.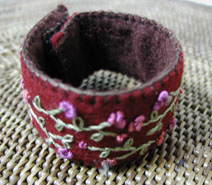 Embroidered wristband
Here's a cute site called
Pristine
that I found today with lots of wonderfully simple baby items. These are wonderful eye soothers that I guess you heat somehow and then lie on the ground and put them over your eyes. At least that is what the lady in the photo was doing and I envied her so I guess they work well.
Stuffed eye soother
I've been eyeing pendants made using glass slides in the past couple of months and I was excited by
these ones
. There are a few more styles offered here.
Glass Pendants
Ususally I would name the site, however, although my laptop is equipped with Beta Japanese, I can search but translation is tricky sometimes.