Shrink Art Pins
I'm late with sending out my Back-Tack items due to financial constraints. So, I rolled change last night. I hate that these last few months have been pay to pay. But at least the debt is slowly receding into the background. Apparently at this age we are supposed to be in debt. Who the hell comes up with those statistics? If there is one piece of advice I could give to a new couple starting out I would say PAY CASH and if you don't have the cash YOU DON'T NEED IT!
Oh well after 18 years together, a 6 year old daughter, a house, 2 cars, 8 motorcycles (3 are Lina's), 2 dogs, 1 cat, 3 fish, a business and a career we really aren't doing that bad. That's one thing that being together with someone that long does, it teaches you patience.
So, grrr, I'm over it. Here are a few shrink art bumblebees I am sending out with my backtack parcel. I am picking up the notions today at lunch and will try to get a picture somehow to post here and send to the gals at back-tack.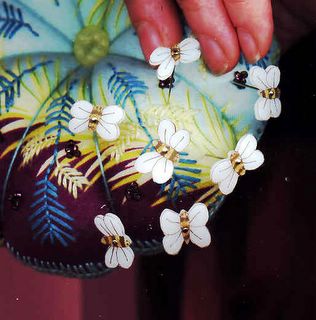 Shrink art pins