I finally got around to doing a little snooping on the net last night and tonight. I have been trying to recover from a weekend spent with 150 -180 Girl Guide Leaders in North Bay. It was hard to get a good measure of how many women were there because we were not all in the same room except at dinner. There's something about women when they are away from there husbands and children. Whew! Let's just say I went to bed at 3:00 am Sunday morning and had to get up at 6:30 am for breakfast and festivities. I will be yawning all week.
Not to mention now I am getting ready for the upcoming weekend. Our three Leaders will be taking 16 Brownies (7 and 8 year old girls) to camp for two nights. I am in charge of crafts so I have been planning, shopping and gathering supplies for the past two days.
Most of my surfing has been about finding some cool ideas for Christmas gifts. This last batch was mostly cute felt ideas.
This felt pillow is a creation of
Liz Alpert Fay
. I really like some of the pillows on her site, no to mention her hooked rugs. I think felt pillow covers would make very nice gifts for the women relatives this year but I don't know if I'll get that ambitious.
Felt Pillow
If you are looking for Christmas Ornament Ideas go no further than
Christmas Traditions
. There are so many pictures here and so many styles that something is sure to inspire. I liked these quirky chenille santas. Yo've got to click on them to see them close up, there so gangly and weird.
Chenille Santas
I saw these felt ornaments and thought I'd record them here to remind me to think outside the box! I never would have thought of doing that. The ornaments are from
feltworks.com
Felt Ornaments
I found this little
felt fishing game
this morning and it is so cute that I would consider making it for Lina. And maybe even her two little cousins.
Fishing Game
And
these cute little guys
are supposed to be dog toys, but I think they are cute enough to put into a crib for a little one.
Cat and Dog Toys
Again I wish there was a store nearby that sold Japanese books. There are quite a few of these "
Sweet Felt Collection 05
" scanned into this site which have many cute pictures of felt toys and decorations.
Sweet Felt Collection Pages
And finally, go check out
this site
to see the minature needle felted cats and dogs. They are so cute- they break my heart.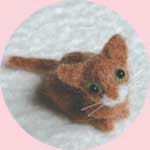 Felted Mew