Back-Tack Ideas
I can hardly get my head screwed on straight and I have no time to get it on right. Tonight is registration night for Guides and because I have committed to Brownies this year (I was a Leader for Sparks last year) I have so much to learn as well. I have some major busy weeks ahead.
In creative news I've pretty much decided how I want to approach my back-tack project. I am going to attempt tablet weaving once again. I haven't done it for years, I was a young teenager the first time I used the technique. I borrowed a book from our library and taught myself. Years later when I was in University and trying to get into being "hip", I wanted to make myself a bag using the technique. I made several straps, but never got around to sewing them up. Who would have thought that studying and working so we didn't starve could take up so much of a student's time?
I still have the deck of cards I cut up to make the tablets and a few years ago I found a copy of the same book I had originally learned the technique from, at a local used book store.
So when I received confirmation that my name was included in the back-tack II project, I started thinking about that book again. I knit, I supposed I could felt if I tried, I crochet, I do beadwork, I can sew, I can quilt but it's not my favourite thing to do. So as a challenge, I have decided to try to tablet weave a bag and some accessories.
Here is the book of techniques I own.
Tablet Weaving Book
And here is my old set of converted playing cards that I made in University (that was 15 years ago - yep you're right, I am a pack-rat)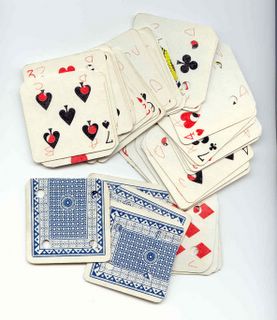 Old Cards
An here is an example of one of the projects that I have been looking at for ideas. I'd like to make a bag in the style of a messanger bag. Complete with tassels and I would like to incorporate some applique work as well. Turns, out from what I can gather from my backtack buddy, the recipient of my bag and I have similar taste so I think if I am happy with the outcome then so will she.
Example

If anyone is interested in learning more about this technique, here are some links to follow which look at the history and possilities of Tablet or Card Weaving.
Discover Card Weaving: Ancient Technique - Modern Delight
Examples
Tablet Weaving
Weavershand
Tablet Weaving
Lina Hendrickson Tablet Weaving
Tablet Weaving