Such a Lovely Gift
Looky, Looky what I received in the mail. While so much is going on (I was supposed to be on my way home 2 hours ago and it doesn't look like I am getting out of the office anytime soon), I was blown away when my husband handed me a package yesterday and low and behold,
Kitty Violeta
from Singapore, who was one of my backtack buddies (it was to her I sent my fabric to in the first half of the backtack project), sent me a beautiful pouch made from left over fabric and filled with some wonderful wool and stitch markers. I am speachless.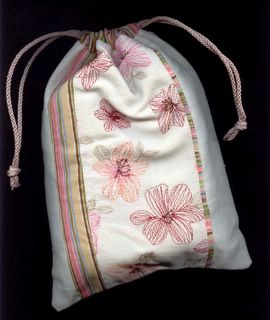 Lovely Pouch
Pouch Contents

This is such a wonderful spirit lifter. THANK YOU THANK YOU THANK YOU!!!
I still don't know whether I got in on the second round of Backtack, but I do know that the first list is obviously comprised of many many generous and talented people. Now I have to put aside some time to make something lovely from this gift to do justice for this surprise.