Silly Me
Silly me. At my last District Meeting of Girl Guide Leaders, I objected to giving fresh flowers to the girls who were being awarded their Canada Cord and the Lady Baden-Powell awards. Fresh flowers don't last very long. In fact many of the girls who receive them leave them on the tables at the end of the night. So I thought I'd make them pins like these that they could keep forever.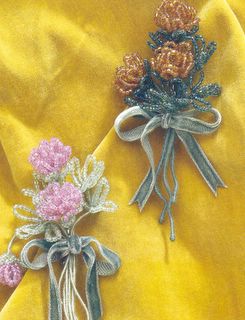 French Beaded Flowers from "Beads in Bloom"

Silly me, what was I thinking. Last night I stayed up until midnight making flowers, my chest hurting the whole time. I have another late night tonight, an audit tomorrow, the Banquet (when the pins will be given to the girls) tomorrow night, etc etc etc. I am so stupid.